What is ITR-V? ITR-V or Income Tax Return – Verification is an acknowledgement that your return has been successfully submitted with the Income Tax Department. You are required to Print, Sign And Send it to CPC Banglore to complete your return.
Read our guide on -
Looking for your ITR-V? Here are the two different ways of downloading your ITR-V.
1. It's in your mail!
When you e-file your Income Tax Return, the Income Tax department sends your ITR-V to the email address you selected within 2-3 days of e-filing.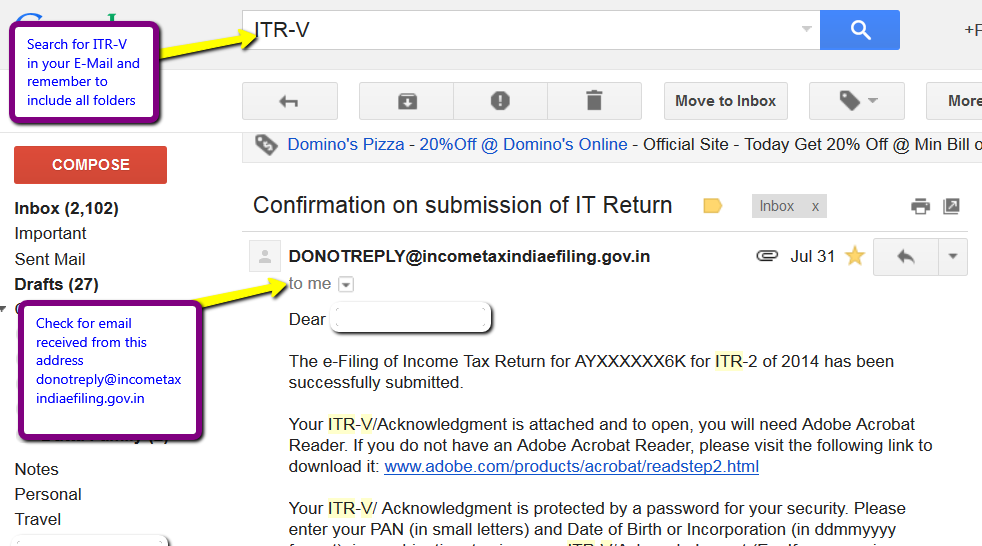 Things to keep in mind -
If you file close to the deadline (i.e. July 31st), they will take more time to send your ITR-V. Income Tax Department took around 7-8 days to send out the ITR-V in many cases.
Sometimes the email containing the ITR-V can be found in the SPAM folder of your email provider. The email is sent out to you by the I-T department from donotreply@incometaxindiaefiling.gov.in Search your spam folder.
2. The Income Tax Department's official portal
The Income Tax Department makes the ITR-V available on their official portal. Login on the government website - www.incometaxindiaefiling.gov.in
Step 1. Login to your account. The username is your PAN number. (ClearTax cannot help you with your password on this government website)
Step 2. Once you login to the website, you will see a Dashboard – click on "View Return/Forms"
Step 3. You can see the status of all the Returns filed by you, now click on the acknowledgement number (ack no)
Step 4. Click under Download/Status Description ITR-V/Acknowledgement to download your ITR-V
Remember
that unless you send your ITR-V your return filing is not complete!
Read our detailed guide on -
How to send your ITR-V to CPC Bangalore?
Start e-Filing on ClearTax Now!