Delivery challan plays an essential role in the manufacturing and certain big retail enterprises. According to their needs and business policy, it comes in various formats and templates for businesses. The article explores formats or templates of delivery challans and the ideal contents.
Benefits of having formats for delivery challan
Businesses find it useful in many ways to have a proper invoicing system. The availability of various delivery challan formats has made it possible for a business to customise its delivery challan to make it more reliable and trustworthy. Some of the other benefits are-

Customise the delivery challan to advertise its brand and therefore promote business.
A business can carry out necessary changes in the format to suit its business and industry requirements.
Various formats for a delivery challan
There are various templates of a delivery challan available in the market but not all in one software. ClearOne provides various delivery challan formats for its users. A taxpayer can pick a format that best suits its business requirements when printing or sending it to the customer. Some of the formats or templates of delivery challan are shown below-

Delivery challan format 1:
Delivery challan format 2: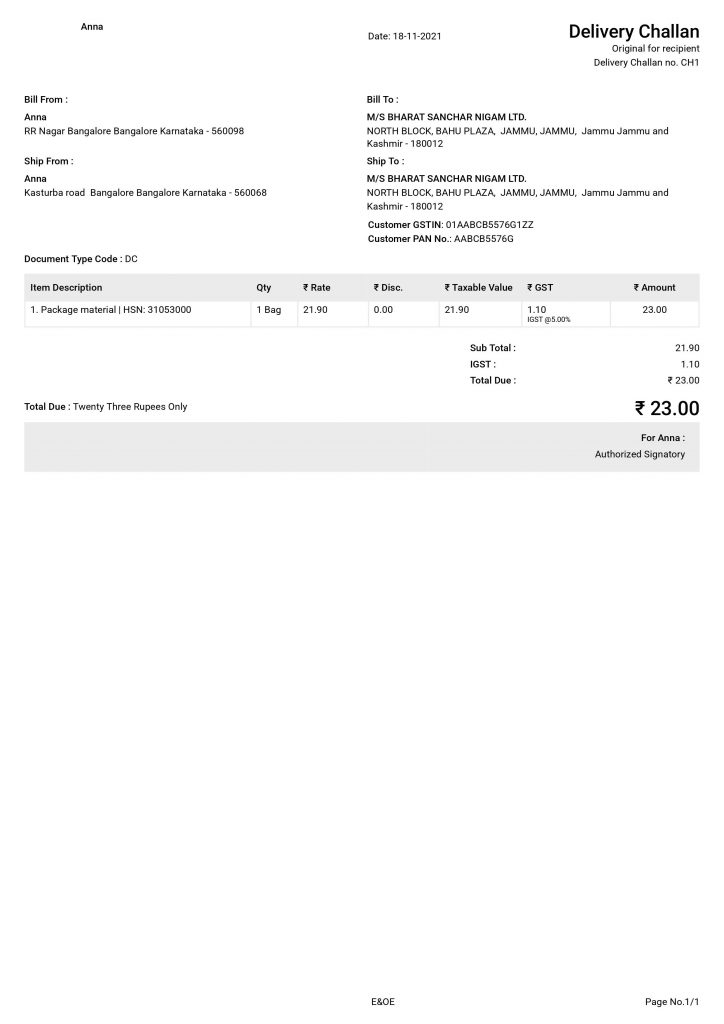 Delivery challan format 3:
Delivery challan format 4:
Delivery challan 5:
Ideal contents of a delivery challan

An ideal delivery challan must contain certain basic information, apart from any industry requirements and applicable regulations. The following are the contents of an ideal delivery challan-

Date of issuing the delivery challan
Serial number of the challan
Name, GSTIN, address, and contact of the consignor or supplier
Name, GSTIN, if present, address and contact of the consignee or customer
HSN code of the product being delivered
Product's inventory keeping unit-identification code
Description of the product being delivered
Quantity being shipped with the rate and value
Place of supply would be mentioned
e-Way bill number, if applicable and is not compulsory
Freight, packing and insurance charges, if any
Discounts and amount of tax, where it is applicable
Signature of the authorised person of the consignor
Choosing the suitable format for a delivery challan

The main objective of a delivery challan is to record the delivery or shipment of the goods by the seller. It also serves as a record of receipt for the consignee or the recipient and helps them follow up on an invoice.

From a supplier's point of view, they act as proof of goods dispatched and provide data for inventory management and financial reporting purposes. Thus, a business must choose the apt format based on its business needs. Modest and good looking layouts promote efficient business.

Fields of a delivery challan that can be customised

The following fields of a delivery challan can be customised:

Name of the consignee or customer with their contact details
Description of goods to be shipped
Prices and units of the goods
Printing delivery challans with an authorised signature
By creating a master list and preserving this information using an invoicing tool such as ClearOne, a business owner can avoid possible errors while entering details for every new delivery challan.

There is also a feature to duplicate a delivery challan earlier created to save time and effort for our ClearOne users. You can also track if the invoice is raised against a particular delivery challan/s at any given time.

Using invoicing and inventory management software such as ClearOne, you can improve your organisation's invoicing and inventory management process.