Employees' Provident Fund Organisation (EPFO) offers three schemes with three different objectives to help working individuals build a suitable retirement corpus. These include the Employees' Provident Fund (EPF), Employees' Pension Scheme (EPS), and Employees' Deposit Linked Insurance (EDLI) Scheme, which serve as savings, pension, and insurance cover, respectively.
The government-run retirement fund body offers EDLI as a combination of EPF and EDS to private sector employees. The maximum benefit an employee could draw under EDLI is capped at Rs 7,00,000.
EPF Calculation
A part of the employee's monthly salary is allotted towards the EPF. The employer also has to contribute an equal amount towards this every month. This amount remains with the EPFO until an employee decides to withdraw it. An annual rate of interest also gets accrued to this corpus.
With the power of compounding, these investments bear substantial returns over a period of time. To cite an example, consider the gross salary of an employee to be Rs 25,000. At 40% of gross pay, the basic salary is Rs 10,000.
Employee's contribution to EPF: Rs 1,200 (12% of basic)
Employer's contribution to EPF: Rs 367 (Rs 3.67% of basic)
Employer's contribution to EPS: Rs 833 (8.33% of basic)
The total contribution into EPF: Rs 1,567 (Rs 1,200+ Rs 367)
Take into account the interest rate for the financial year 2021-22 at 8.1%. Also, consider the annual salary increase to be 10%. If the present age of an employee is 25 years, then at the time of retirement (58 years), the total EPF fund available would be greater than Rs 1 crore.
Recent Developments in EPF
The EPFO has directed mandatory e-nomination for all its EPF members. While no deadline has been set at the moment, EPF members can e-file nominations of their own volition.
Benefits of EPFO e-Nomination
E-nomination provides authority to the nominee or dependents (spouse, children, and parents) of the EPF account holder to withdraw funds accumulated (EPF, EPS, and ELDIS) in the event of demise.
EPF Scheme Nomination Rules
There are different rules when it comes to nominations under EPF and EPS. The EPF Act states that a family is:
In the case of a male employee: his wife, his children (married or unmarried), dependent parents, and widow of son and children.
In the case of a female employee: her husband, her children (married or unmarried), dependent parents, spouse's dependent parents and widow of son and children.
Similarly, in the case of EPS, a family is defined as a spouse of the employee, a minor son or daughter of an employee, and an adopted son or daughter who was adopted before the demise of an employee.
How to File e-Nomination Online of EPFO?
Login to the EPF member portal: Member Home (epfindia.gov.in). You must sign in using a universal account number (UAN) and password. EPFO issues the UAN, which is a 12-digit number
Select e-nomination under the 'Manage' tab
Click on 'Enter new nomination' option.
The 'Provide Details' tab will appear on the screen, click on the 'Proceed' button
Now select 'Yes' to update the family declaration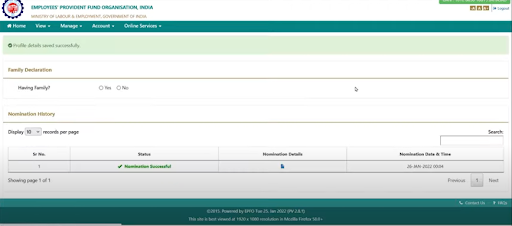 Click on 'Add Family Details'. Click on 'Add now' in case more than one nominee is to be added. You will be required to provide the following details of the nominee: Aadhaar, name, gender, date of birth, relation, address, bank account details (optional), guardian (in case of a beneficiary who is minor), and a photograph (size not exceeding 100KB). You will also be asked the total amount of share you plan to give to the nominee. Click on 'Save Family Details'
Declare the total amount of shares. In case of more than one nomination, take into account that the total percentage of share of the nominees comes to 100 per cent. Click on 'Save EPF Nomination'
Now, go to the 'e-nomination' option under the 'Manage' tab. It displays 'Pending Nomination'. Click on 'e-sign' to generate a one-time password (OTP) and submit it to the mobile number linked to Aadhaar
A new web page will open prompting you to enter the virtual ID of Aadhaar.
You will be directed to the tick box to provide your consent for e-KYC services data from Aadhaar.
Enter your Aadhaar or Virtual ID again. Now, click on 'Get OTP', which will be sent to the registered mobile number as per the Aadhaar database
Key in the OTP received on your registered mobile number. Select the check box and give your consent. Finally, click on 'Submit'
You have successfully entered the e-nomination for EPFO. Click on the 'Manage' tab and recheck 'E-Nomination'. The 'Nomination History' displays the status as 'Nomination Successful'
Frequently Asked Questions (FAQs)
Can an EPF member nominate anyone if they don't have a family member?
Yes, if they don't have a family member, anyone can be nominated.
If a previously unmarried member marries, will the earlier nomination continue?
No, they will have to file a new nomination in such a case.
Is e-nomination mandatory for filing advance claims?
No, it is not mandatory.

Can you make different nominations for EPF and EPS?
Yes, it is possible to add different nominees.
Do I need to send any physical documents to my employer or ex-employer after the e-nomination process of EPFO?
No, this is not required.