TDS is deducted on your salary income and deposited with the Income Tax Department (IT Department) every month. Form 16 is a certificate issued by employers to their employees which gives a detailed summary of the salary paid to the employee and the TDS deducted on the same.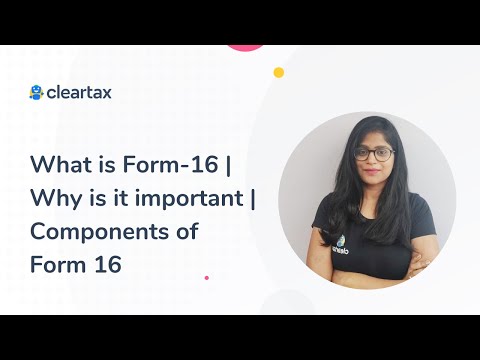 What Is Form 16?
Using Form 16 you can prepare and file your income tax return. It shows the breakup of salary income and the TDS amount deducted by the employer. It has two components – Part A and Part B (discussed in detail below).
When Will Form 16 Be Available For 2022-23?
The due date to issue Form 16 is 15th June 2023. If your employer deducted TDS from April '22 - March '23, then Form 16 must be issued latest by 15th June '23. If you lose your Form 16, you can request a duplicate from your employer.
Form 16 Download?
Part A of Form 16
Part A of Form 16 provides details of TDS deducted and deposited quarterly details of PAN and TAN of the employer and other information.
An employer can generate and download this part of Form 16 through the TRACES (https://www.tdscpc.gov.in/app/login.xhtml) portal. Before issuing the certificate, the employer should authenticate its contents.
It is important to note that if you change your job in one financial year, each employer will issue a separate Part A of Form 16 for the period of employment. Some of the components of Part A are:
Name and address of the employer
TAN and PAN of employer
PAN of the employee
Summary of tax deducted and deposited quarterly, which is certified by the employer
Part B of Form 16
Part B of Form 16 is an Annexure to Part A. Part B is to be prepared by the employer for its employees and contains details of the breakup of salary and deductions approved under Chapter VI-A.
If you change your job in one financial year, you should take Form 16 from both employers. Some of the components of Part B notified newly are:
Detailed breakup of salary
Detailed breakup of exempted allowances under Section 10
Deductions allowed under the Income Tax Act (under chapter VIA):
The list of deductions mentioned are as below:

Deduction for life insurance premium paid, contribution to PPF etc., under Section 80C
Deduction for contribution to pension funds under Section 80CCC
Deduction for employee's contribution to a pension scheme under Section 80CCD(1)
Deduction for taxpayer's self contribution to a notified pension scheme under Section 80CCD(1B)
Deduction for employer's contribution to a pension scheme under Section 80CCD(2)
Deduction for health insurance premium paid under Section 80D
Deduction for interest paid on loan taken for higher education under Section 80E
Deduction for donations made under Section 80G
Deduction for interest income on savings account under Section 80TTA
Details required from Form 16 while filing your return
With reference to the image below, here is where you can locate certain information for filing your income tax return for FY 2022-23 (AY 2023-24).
Allowances exempt under Section 10
Break up of deductions under Section 16
Taxable salary
Income (or admissible loss) from house property reported by an employee and offered for TDS
Income under the head 'Other Sources' offered for TDS
Break up of Section 80C deductions
The aggregate of Section 80C deductions (gross and deductible amount)
Tax payable or refund due
Form 16 – Part B
It shows your name (taxpayer's), address and PAN. You can also find additional information of your employer in your Form 16 while filing your annual return, such as:
TDS deducted by the employer
TAN of employer
PAN of employer
Name and address of employer
Current assessment year
Your PAN
What is the eligibility criteria for Form 16?
According to the regulations issued by the Finance Ministry of the Indian Government, every salaried individual whose income falls under the taxable bracket is eligible for Form 16.

If an employee's income does not fall within the tax brackets set, they will not need to have Tax Deducted at Source (TDS). Hence, in these cases, the company is not obligated to provide Form 16 to the employee.
However, these days, as a good work practice, many organisations issue this certificate to the employee as it contains a consolidated picture of the individual's earnings and has other additional uses.
Points to be noted while checking Form 16
Once an individual receives Form 16 from the employer, it is their responsibility to ensure that all the details are correct.
One should verify the details mentioned in Form 16, for example, details of the amount of income, TDS deducted, etc.
If any of the detail is mentioned incorrectly, one should immediately reach out to the organisation's HR/Payroll/Finance department and get the same corrected.
The employer would then correct their end by filing a revised TDS return to credit the TDS amount against the correct PAN. Once the revised TDS return is processed, the employer will issue an updated Form 16 to their employee.
Frequently Asked Questions
How to get Form 16?
You can get your Form 16 from your employer. Even if you have left your job, your employer will provide you with Form 16. Unfortunately, this income tax Form 16 cannot be downloaded from anywhere.
I don't have Form 16. How do I file my return?
Though this is one of the most important income tax forms, don't worry if you do not have it. You can still file your income tax return. Click here to learn more.
If there is no TDS deducted, is the employer required to issue a Form 16?
TDS certificate in Form 16 is issued when TDS has been deducted. If the employer has deducted no TDS, he may not give you Form 16. Please take a look at our Guide on how to e-file without form 16
When does the employer deduct TDS and does not issue a certificate?
Any person responsible for paying a salary must deduct TDS before making payment. The Income Tax Act lays down that every person who deducts TDS from a payment must furnish a certificate with TDS deducted & deposited details. An employer in specific is compulsorily required to furnish a certificate in the format of Form 16.
If no Form 16 has been issued to me, does it mean I don't have to pay tax or file a return?
While the onus of deducting tax on salaries and providing Form 16 is on the employer, the onus of paying income tax and filing an income tax return is on you. If your aggregate income from all sources goes above the minimum tax slab, you must pay tax, whether or not your employer has deducted TDS. Even when he fails to issue you a Form 16, you must file an income tax return and pay off the due taxes.
Download consumer guide
Upload Form 16 and file income tax return
Our software automatically picks up all the relevant information from your Form 16 and prepares your tax return. There is no need to enter anything manually.