Aadhaar card (आधार कार्ड) is a unique identification number issued to every resident of India. An Aadhaar card is as significant as a PAN card. Most organisations, including mutual fund houses, accept it as a part of the documentation for investments. Let's understand Aadhaar and its significance in detail.
Aadhaar Latest Updates
The last date to link your PAN with your Aadhaar is 30th June 2023
Aadhaar Card Overview
Aadhaar is a 12-digit number generated based on factors such as demographic and biometric data specific to each individual. The statutory body for Aadhaar is the Unique Identification Authority of India (UIDAI), Government of India.
UIDAI was established in the year 2016 with a mission to provide excellent, efficient and transparent governance to the people of India. It has the following components:
Name Of Aadhaar Issuing Authority

Unique Identification Authority of India (UIDAI)

Aadhaar Customer Care Number

1947

Inception of Aadhaar Card

September 2010

Validity Of Aadhaar Card
L

ifetime

Number Of Enrolment Centers

More than 30,000

Number Of Enrolments

136 crore (approximate)

Key people


J. Satyanaraya, IAS, Chairman, UIDAI




Pankaj Kumar, IAS, CEO, UIDAI
Aadhaar Card Eligibility
The eligibility for an Aadhaar card is :
Any resident of India (newborns/minors) is eligible for an Aadhaar card. While the Aadhaar card is for adults, Baal Aadhaar is for children below five years.
NRIs and foreigners staying in India for more than 12 months are eligible for the Aadhaar. It is proposed to issue an Aadhaar card for non-resident Indians with Indian passports after their arrival in India without waiting for 180 days.
Aadhaar card for NRIs
Non-resident Indians (NRIs), including minors and adults, having a valid Indian Passport can apply for and obtain an Aadhaar card.
Aadhaar card for minors or Baal Aadhaar
Aadhaar enrolment is available even for minors and newborns. The identity and address proof of parents must be provided to apply for an Aadhaar card for children. However, they must update their biometric data twice, once when they turn 5 and again when they turn 15 years old. The Baal Aadhaar card for children below 5 years will be in blue colour.
Documents Required for Aadhaar Card
Aadhaar requires three types of documents – Proof of Address (POA), Proof of Identity (POI) and Date of Birth (DOB). The following documents are sufficient to meet the criteria:
| | | |
| --- | --- | --- |
| Proof of identification (POI) | Proof of address (POA) | Date of Birth (DOB) |
| Pan card | Passport | Passport |
| Passport | Ration/PDS card | Service photo ID card issued by Central or State Government |
| Ration card | Voter ID card | Marksheet |
| Voter ID card | Service photo ID card issued by Central or State Government | Birth certificate |
| Driving license | Marriage certificate | |
| Service photo ID card issued by Central or State Government | Bank account statement | |
| Marksheet or school leaving certificate | Electricity, telephone, mobile or water bill not older than 3 months | |
| Bank account statement | Property tax receipt, sale deed or rent agreement | |
How to Enrol for Aadhaar?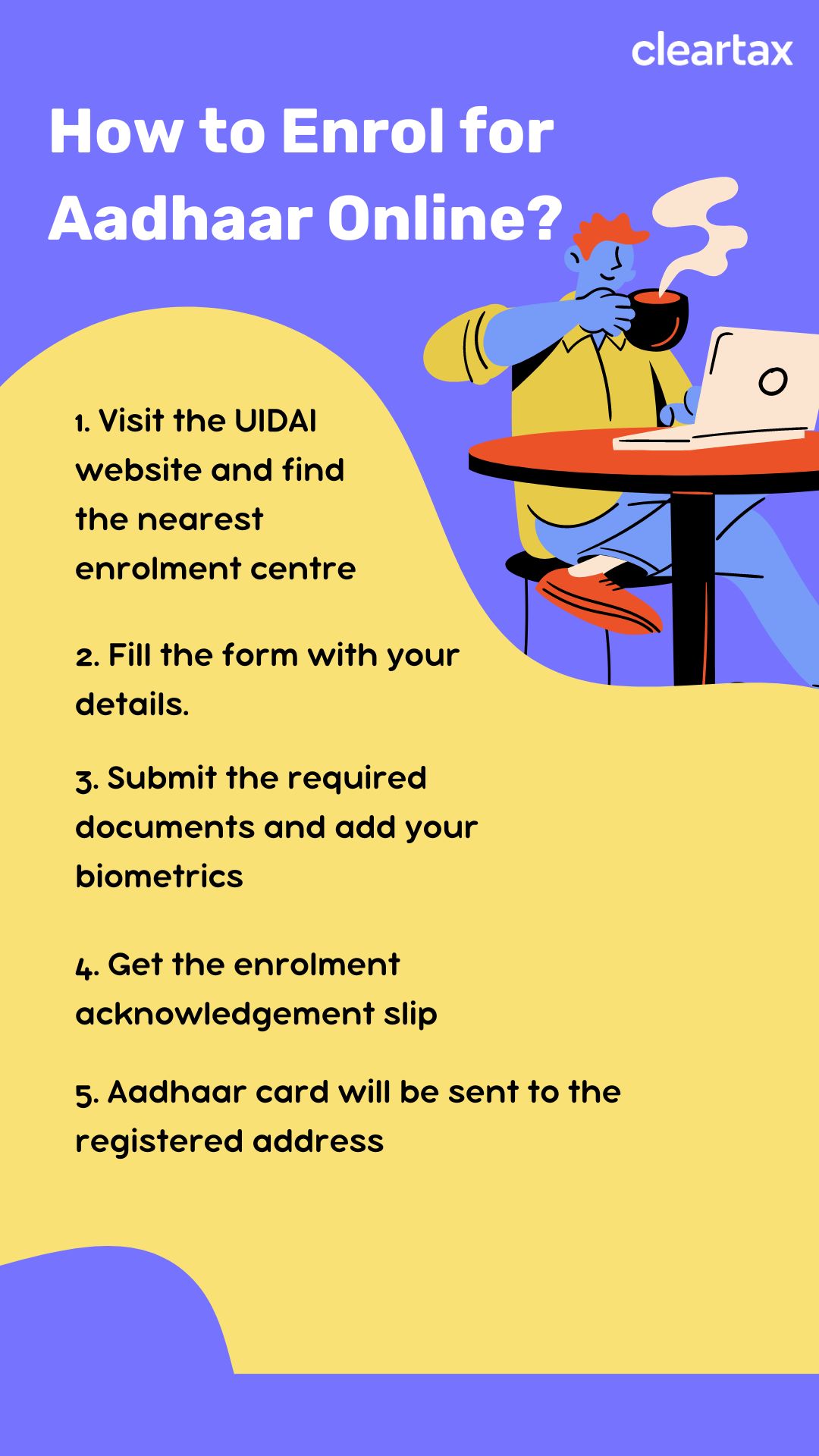 Steps to enrol for Aadhaar Card
Find an Aadhaar enrolment centre by visiting the UIDAI website.
Fill the form with the requested details.
Submit the required documents.
Provide your biometrics (fingerprint and iris scan).
Get the enrolment acknowledgement slip.
Aadhaar card will be sent to the registered address.
The Aadhaar enrolment is voluntary and free of cost.
Baal-Aadhaar
An Aadhaar card issued to a newborn/minor child is known as a 'Baal Aadhaar' card. It is blue in colour and does not include biometric information like fingerprints and iris scan of the cardholder, unlike the card for adults.
Visit the UIDAI website and find the nearest enrolment centre with a copy of the child's birth certificate.
One of the child's parents must compulsorily provide their Aadhaar number for authentication. Baal Aadhaar will be linked to the parents Aadhaar.
Fill up Baal Aadhar application form with all relevant details along with a mobile number that you wish to register Baal Adhaar with
A photograph of the child/ minor will be taken. If the child is below 5 years of age, no biometrics will be recorded
After completing the above steps, collect the acknowledgment slip.
A verification SMS will be sent to the mobile number provided in the application form, after which Baal Aadhar will be dispatched to the designated address.
Check Aadhaar Card Status
To check Aadhaar card status, visit the official UIDAI website, click 'Check Aadhaar Status' under the 'My Aadhaar' tab. Enter your enrolment number which is printed on the acknowledge slip to check the current status of your Aadhaar card.
Download/Print Aadhaar card
If you have successfully enrolled for an Aadhaar card but have not received the physical copy as yet, then you can download and print the PDF version of Aadhaar card, also known as e-Aadhaar from the Aadhaar website. This is accepted everywhere. Go to the UIDAI website, and click 'Download e-Aadhaar' under the 'My Aadhaar' tab. Enter your Aadhaar number or enrolment number which is printed on the acknowledge slip to download your Aadhaar card.
Aadhaar Card Verification
It is now possible to easily verify Aadhaar online by the following steps:
Step 1: Visit the official UIDAI website.
Step 2: Click on the tab 'My Aadhaar', and select the option 'Verify an Aadhaar Number' under the 'Aadhaar services' heading.
Step 3: Enter the unique 12-digit Aadhaar number and click 'Proceed and Verify Aadhaar'.
Step 4: Enter the one-time password (OTP) that you will receive on your registered mobile phone.
Step 5: Submit the application.
If there is a mismatch in details, you can call UIDAI toll-free number – 1947 for rectification.
How to Update/Edit Aadhaar?
The two main reasons to update Aadhaar card details are:
Change in demographic data such as name, age, and marital status.
Biometric Aadhaar data.
You need a copy of the supporting document (POI/POA) to update details. The update can be done by visiting the Aadhaar Enrolment Centre or logging on to the UIDAI website to update the Aadhaar online.
How to Link Aadhaar With PAN card?
The government has made it mandatory to link Aadhaar with PAN card by 30th June 2023. However, it must be linked by paying a late penalty of Rs.1,000. After paying the penalty, individuals must visit the Income Tax e-filing portal, click the 'Link Aadhaar' option, enter the details and submit to link Aadhaar with PAN.
Importance of Aadhaar Card
Aadhaar card is an accepted valid proof of identity and address for Indian residents.
Aadhaar card is mandatory to avail various government subsidies and scheme benefits, such as LPG subsidy, pension schemes, and scholarships.
The Aadhaar card is an important document along with the PAN for opening bank accounts.
The Income Tax Department has made it mandatory for taxpayers to link Aadhaar to PAN. Aadhaar is required while paying income tax and filing returns.
Most telecom companies and gas distribution companies provide phone and gas connections after accepting Aadhaar as proof of identity and address.
Aadhaar card is used for verification of mobile SIM cards.
Aadhaar card is necessary to complete KYC to avail subsidy on gas connection. Aadhaar will be linked with the bank account and the subsidy will be sent directly in the beneficiaries accounts under the Pahal (DBTL) scheme.
Aadhaar Virtual ID
Aadhaar Virtual ID is the alternative to the Aadhaar number. This virtual ID is a temporary code consisting of a 16-digit number generated against an Aadhaar number. Remember that the virtual ID under no situation can be used to retrieve the original Aadhaar card. Only one virtual ID is generated against an Aadhaar number, and it can be generated as many times as the user wants.
Aadhaar PVC
The UIDAI introduced the latest form of Aadhaar, i.e. Aadhaar PVC card. Aadhaar cards can now be reprinted as Polyvinyl Chloride (PVC) cards. Aadhaar PVC is easy to carry and durable, with multiple security features. It has a digitally signed secure QR code with a photograph and demographic details. You can apply for the Aadhaar PVC card online by paying a nominal fee of Rs.50.
e-Aadhaar
e-Aadhaar is the electronic form of Aadhaar, which is digitally signed by the UIDAI. It contains a QR code for offline verification, issue date and download date. Residents can easily download e-Aadhaar/masked e-Aadhaar from the UIDAI website using registered mobile number. The masked e-Aadhaar displays only last 4 digits of the Aadhaar number. e-Aadhaar is generated automatically with Aadhaar enrolment or update, and it can be downloaded free of cost.
Aadhaar Services
UIDAI provides the following Aadhaar-related services on its website:
Download e-Aadhaar card online.
Check Aadhaar card status.
Locate Aadhaar enrolment/update centre to apply for Aadhaar card and update details.
Retrieve Aadhaar number in the case if you have forgotten/misplaced Aadhaar/enrolment number.
Update name, address and demographics data on Aadhaar card online.
Verify Aadhaar number online.
You can also lock and unlock Aadhaar biometrics online.
Book an appointment with Aadhaar Seva Kendra online.
Check Aadhaar history to track all authentication requests in the past six months.
Frequently Asked Questions
What to do if you lose your Aadhaar card?
If you have lost/misplaced your Aadhaar card, do not worry. You can get a duplicate Aadhaar card by downloading the PDF/e-Aadhaar online by visiting the UIDAI website and accessing the Aadhaar online services.
For how long is the Aadhaar card valid?
The Aadhaar card/number is valid for life.
Can the Aadhaar card be made online?
No, the Aadhaar enrolment is a one-time physical procedure that can be done at any Aadhaar enrolment centre. To find the Aadhaar enrolment centre near you, visit the UIDAI website and search Aadhaar enrolment centre.
What is the purpose of having an Aadhaar Card?
Aadhaar is a unique identification number that enables each resident of India with the following:
Proof of Identity
Proof of Address
Access to government subsidy
Eligibility to open and operate bank accounts
Processing and filing income tax returns
Phone connection
Gas connection
eKYC for mutual fund investments
Aadhaar for eKYC (Know Your Customer)
What is Aadhaar Authentication?
Aadhaar Authentication is a method of verification where Aadhaar details of an individual are submitted to UIDAI and cross verified to enable cardholders to avail services and benefits from the service provider. Aadhaar for eKYC is a large service requirement from many service providers and has enormous benefits for the user and government as well. Here's why :
The eKYC process is paperless, enabling a service provider to manage documents quickly and efficiently.
Quick The Aadhaar cardholder can share information with a service provider through a secure channel within minutes, thus eliminating long waiting periods that physical documents would generally require
Secure UIDAI shares only tamper-proof digital documents through secured channels, thereby protecting the holder's information. These documents cannot be forged. It cannot be used without the consent of both the service provider and Aadhaar holder.
Consent-based UIDAI shares information with a service provider only after UIDAI receives explicit consent from the Aadhaar holder in the form of a biometric or OTP acknowledgement.
Authorised Information shared by UIDAI contains authenticated data making it legal and acceptable for the parties involved in the transaction.
Cost friendly The entire system is paperless and online, eliminating the physical movement of information and making it a cost-effective and time-saving process.
Related Articles